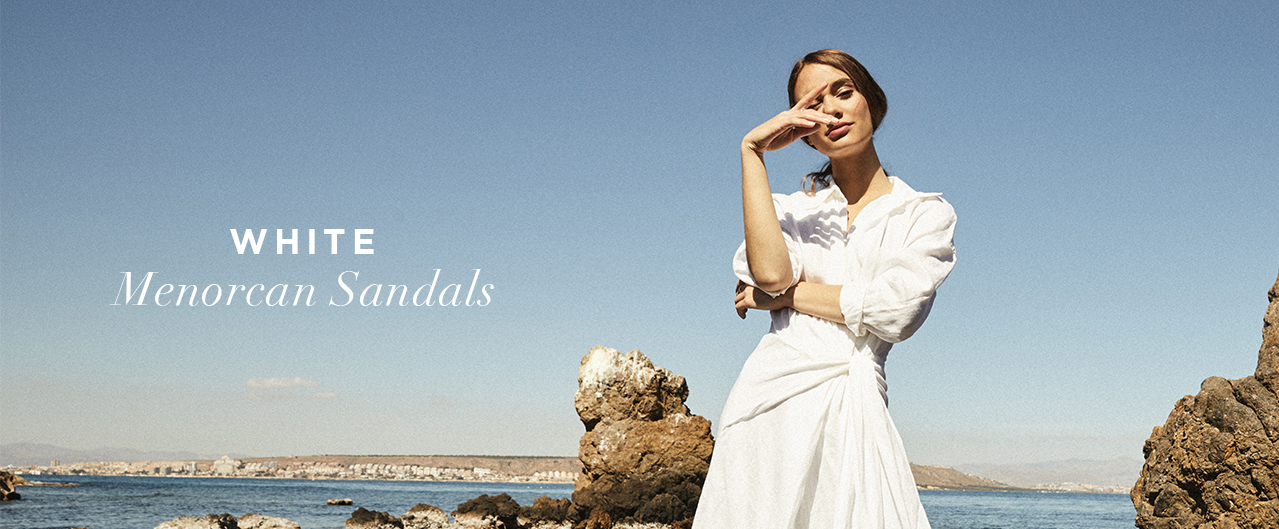 WHITE WOMEN MENORCAN SANDALS
White women Menorcan sandals are a must in your summer wardrobe and in Castell Menorca we are true lovers of this color. Why? Because white is a color that combines with almost everything. Therefore, we have different models of white Menorcan sandals: with platform, wedge, flat, anatomical... All of them have been designed for any type of occasion. Bring originality to your summer outfits with the most classic or the latest white Menorcan sandals styles.

Whether to go: to the beach, the office or to going out, we have a white Menorcan sandal which will be adapted to your style and need.

In addition, all our white women Menorcan sandals are handmade and designed and manufactured 100% in Menorca. They will perfectly fit your foot giving you the security you need at every step. Don't you have yours yet? Keep reading to know more.
CLASSIC WHITE MENORCAN SANDALS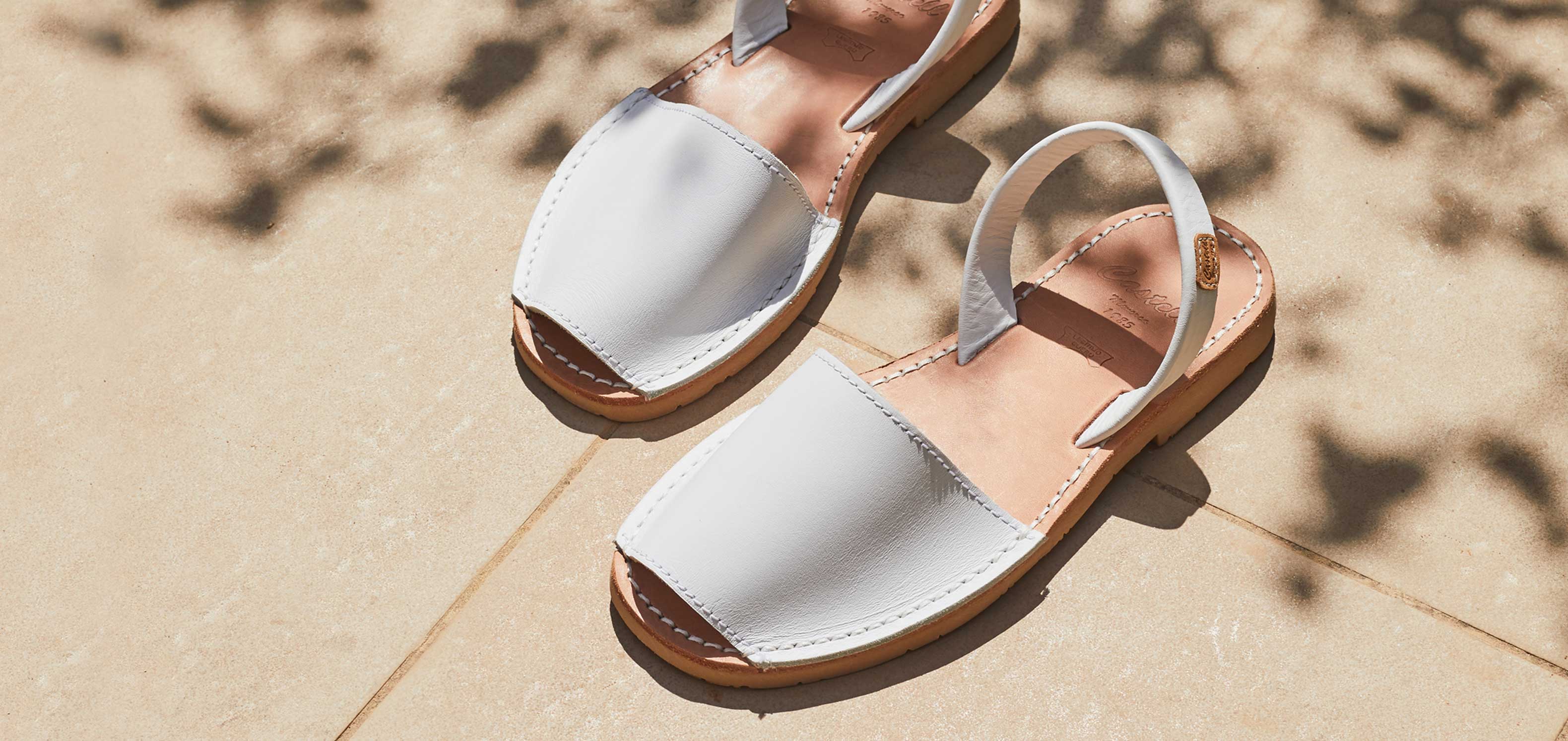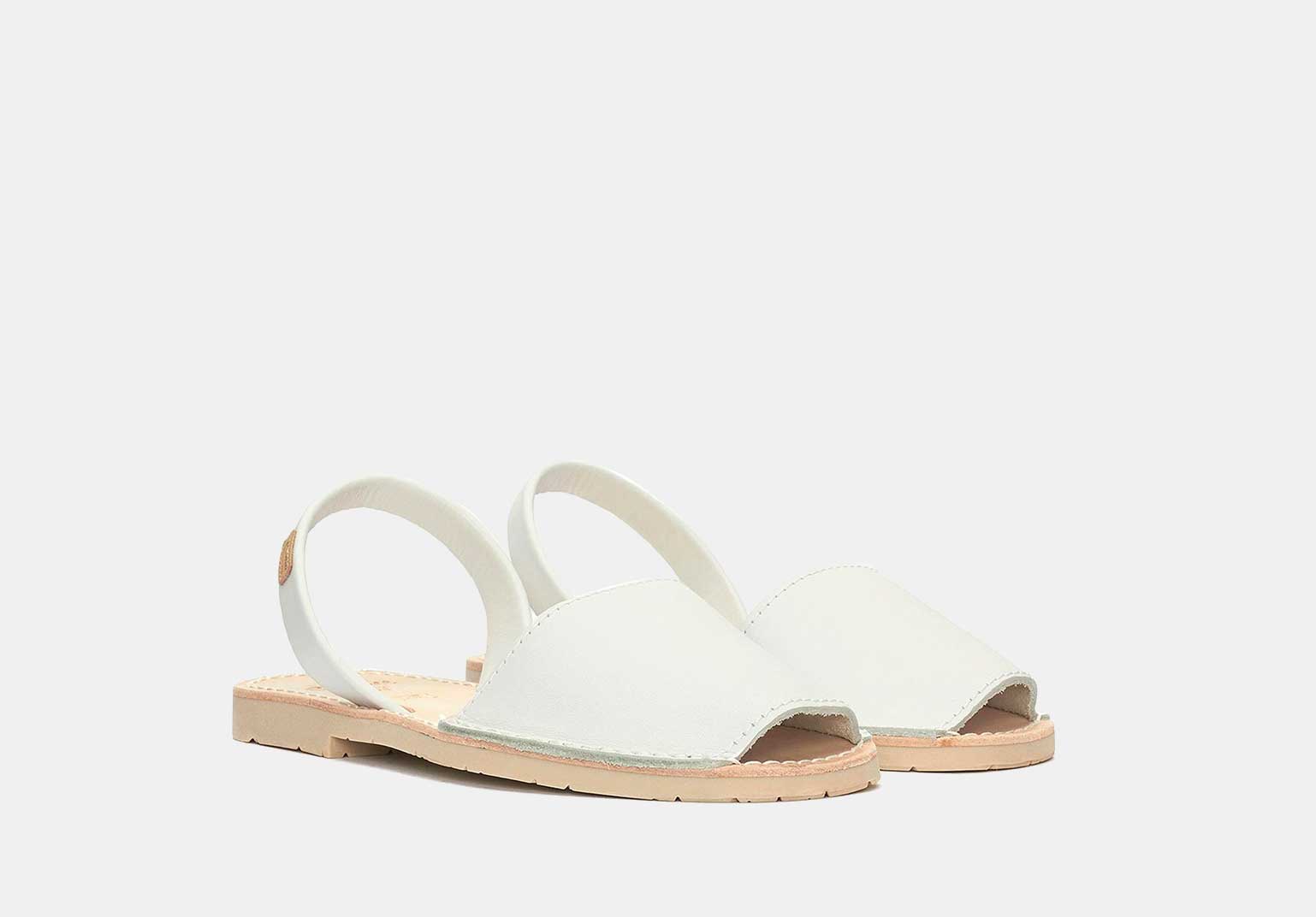 1097 IKER WHITE

Your most classic flat white Menorcan sandal. A traditional and versatile model that always comes in handy for your wardrobe and never will be out of style. Made with white cowhide leather and ivory rubber sole. Combine it with bright colors or with colorful prints to avoid taking center stage. You will be very comfortable and fashionable!

If you love this style, you should know that it is available in several colors and prints such as: nude, mink, black, cocoa, green, camouflage, mustard, red, gray, vecco, fuchsia, glitter and much more.

SHOW PRODUCT >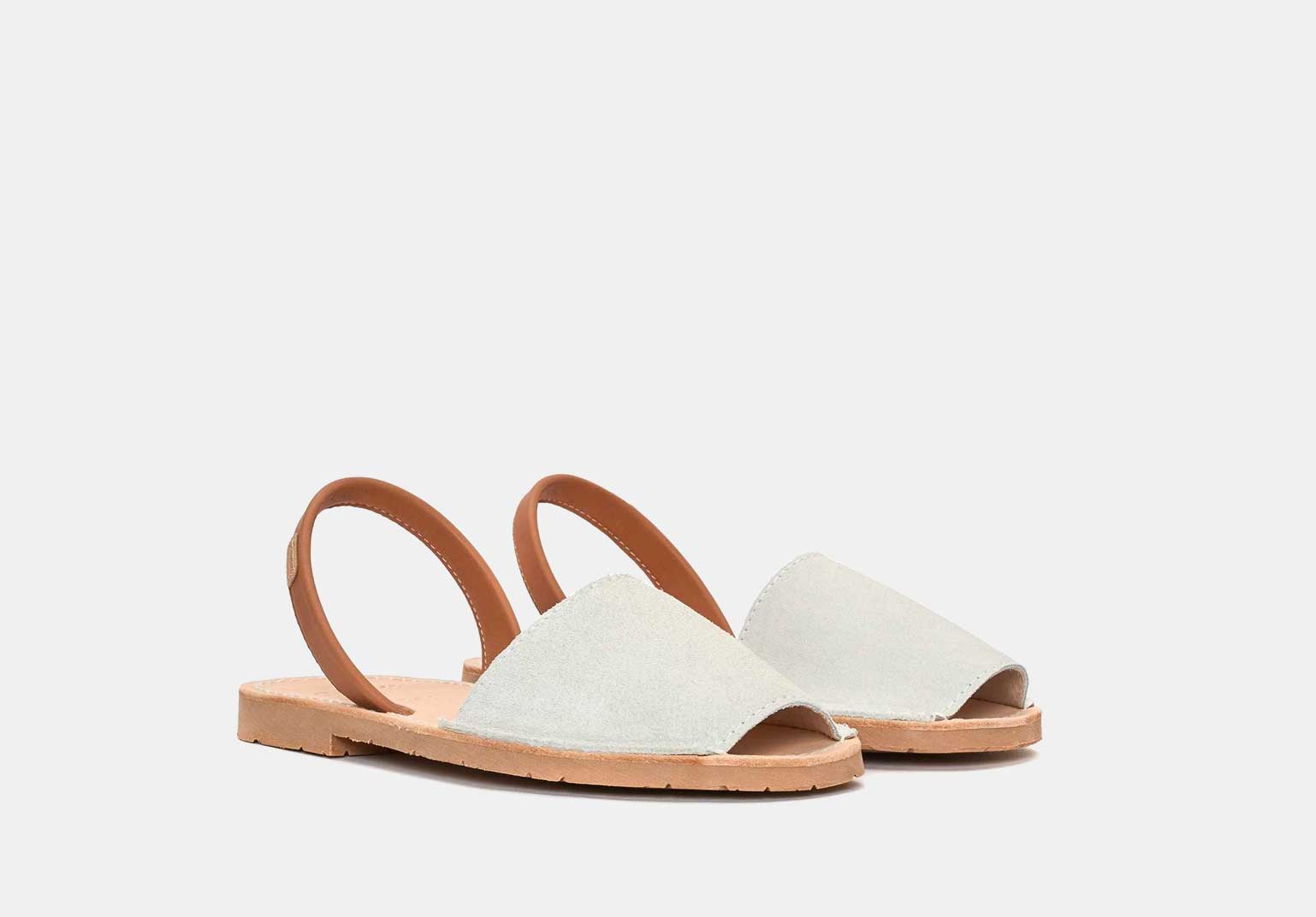 1097-U-IKER SUEDE WHITE

The white Menorcan sandal par excellence has decided to renew giving rise to the 1097-U-Iker Suede White style. If the 1097 Iker Blanco left you speechless, do not miss this style. A classic design renewed to incorporate a new material in its shovel: the suede. Yes, as you read, splitting is not just for winter! It also has a brown back strap, ideal to combine with your summer bags of this color.

We know you liked it, so you can also find it in other trendy colors: mustard zebra, lollipop, camel zebra and blue reptile. More trendy impossible!

SHOW PRODUCT >
WHITE PLATFORM MENORCAN SANDALS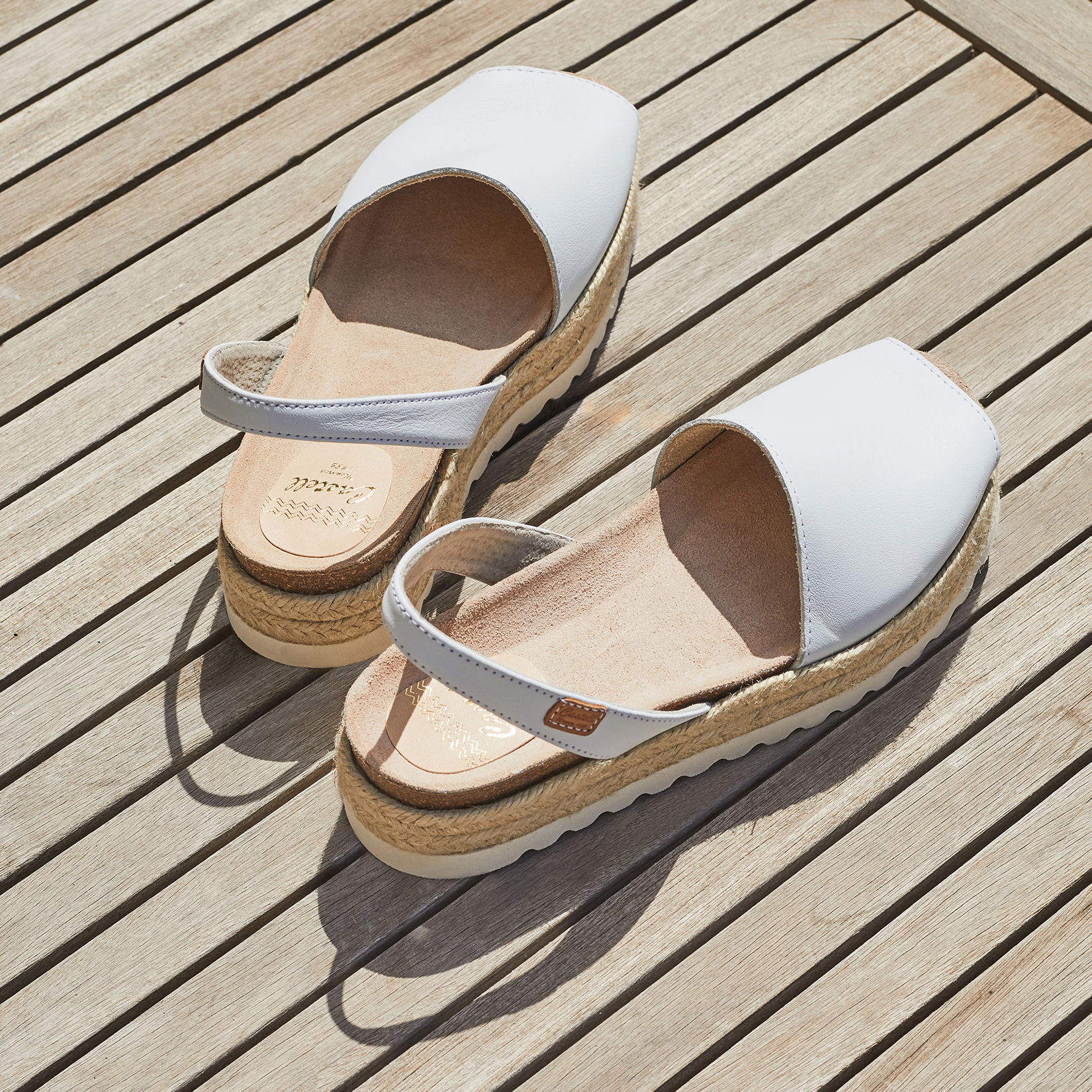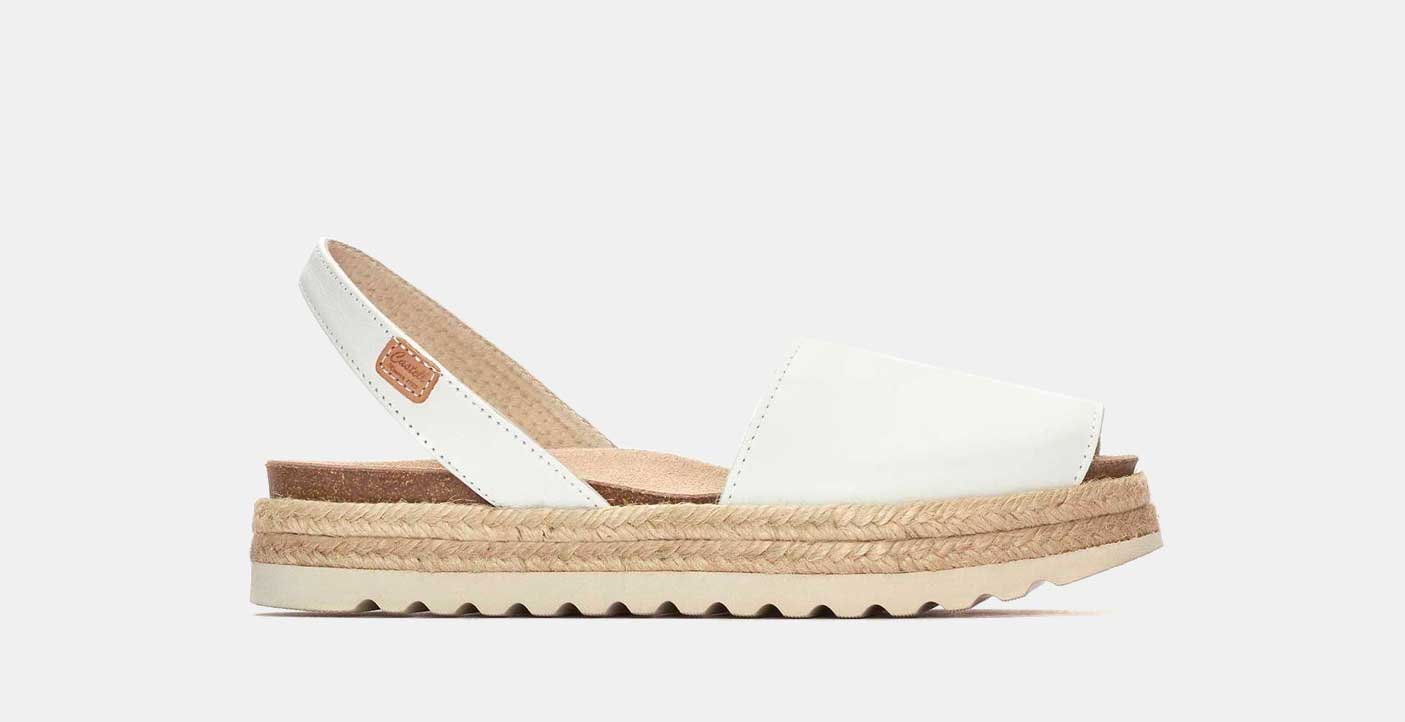 1845 BIO WHITE DENIS

Our 1845 Bio White Denis Menorcan style is ideal for adding a few centimeters in height without sacrificing comfort. Its main material is cowhide, very soft. Forget about chafing! With its 4-centimeter platform and jute structure that incorporates a superflex anatomical template, you will endure wherever you go during the long summer days. In addition, the anatomical insole is fully adapted to your foot. Learn more about the Menorcan sandals with anatomical floor. You love it? Then discover it in different colors: safari, jeans, gold or kaki.

SHOW PRODUCT >
MENORCAN WHITE SANDALS WITH ANATOMICAL BIO PLANT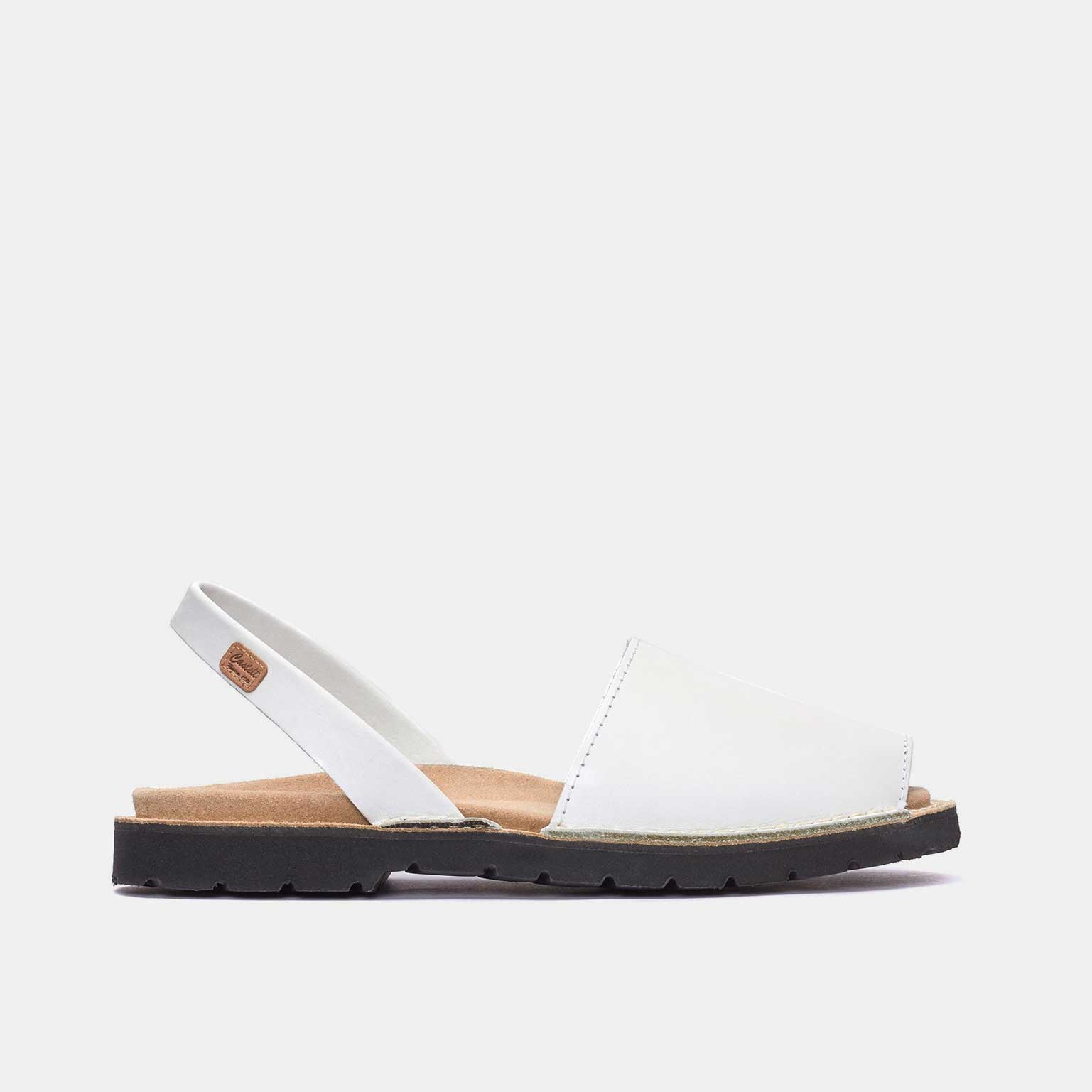 1059 WHITE ROLLS

The 1059 Rolls model is usually a favorite for our customers because of its bio anatomical plant. One of the most comfortable in our catalog! The volume of its plant has nothing to do with its weight, they are very light white Menorcan sandals. The shovel and the back strip are made of very soft cowhide. Dare to combine them with your entire closet. Can you imagine them with your favorite ibicenco dress?

The 1059 Rolls model is usually a favorite for our customers because of its bio anatomical plant. One of the most comfortable in our catalog! The volume of its plant has nothing to do with its weight, they are very light white Menorcan sandals. The shovel and the back strip are made of very soft cowhide. Dare to combine them with your entire closet. Can you imagine them with your favorite ibicenco dress?

SHOW PRODUCT >
WHITE MENORQUINES WITH RECYCLED TIRE FLOOR
1053 RUSTIC WHITE

Our white Menorcan sandal 1053 Rustic is our authentic Menorcan sandal. Made of cowhide, with also silver leather and recycled tire sole. For the most eco! It is here that we try to put our grain of sand in favor of the environment by giving new life to discarded tires. Despite its special touch on the sole, we continue to develop this model with traditional artisanal methods.

Find it also in cocoa, vecco, gray, nut, navy, red, khaki and natural color.

SHOW PRODUCT >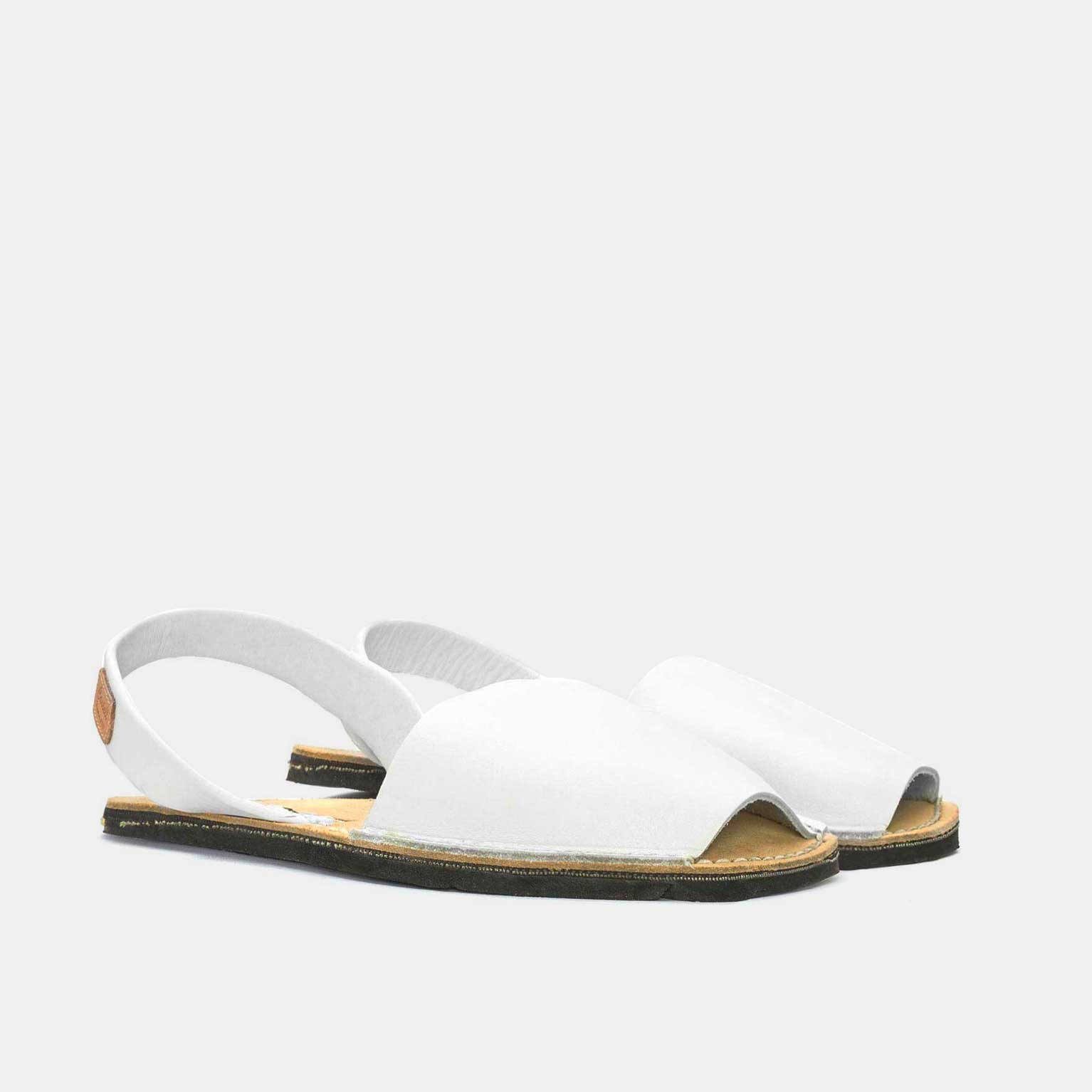 WHITE MENORQUINAS WITH WEDGE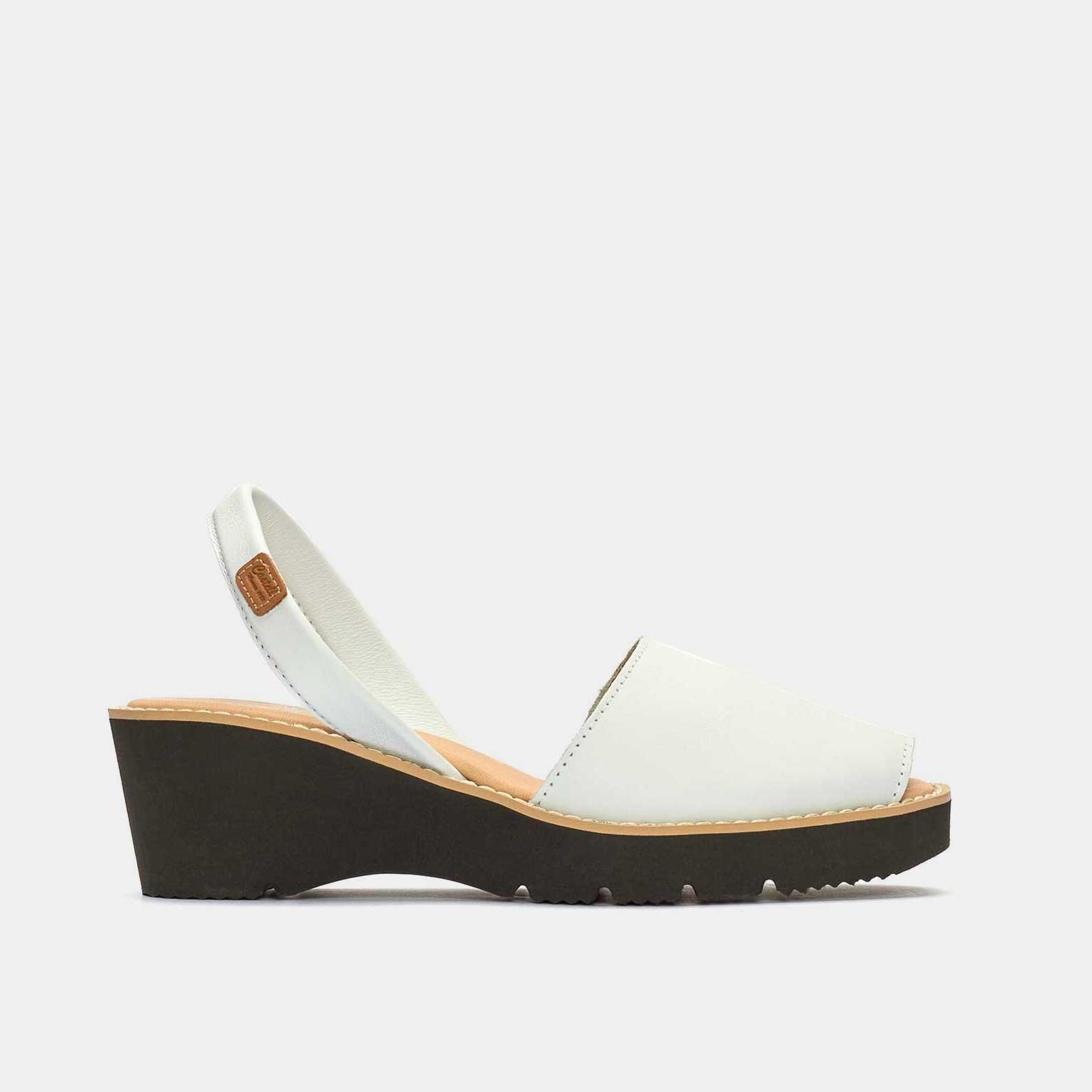 1390 KIA LUIS WHITE SKIN

Our model 1390 Kia Luis is one of our favorites among the white Menorcan sandals with wedge. We maintain the aesthetics of the classic Menorcan sandals incorporating a slight wedge for those who want to give us a few inches more or for those who walk more comfortable with a certain heel lift. Its padded floor is very soft and comfortable. Stylize your figure without suffering! By adding those few centimeters you can use them for any occasion with a more elegant but summery outfit.

You can find it in more colors in our online store: mink, marine and pomodoro. Which one do you like the most?

SHOW PRODUCT >